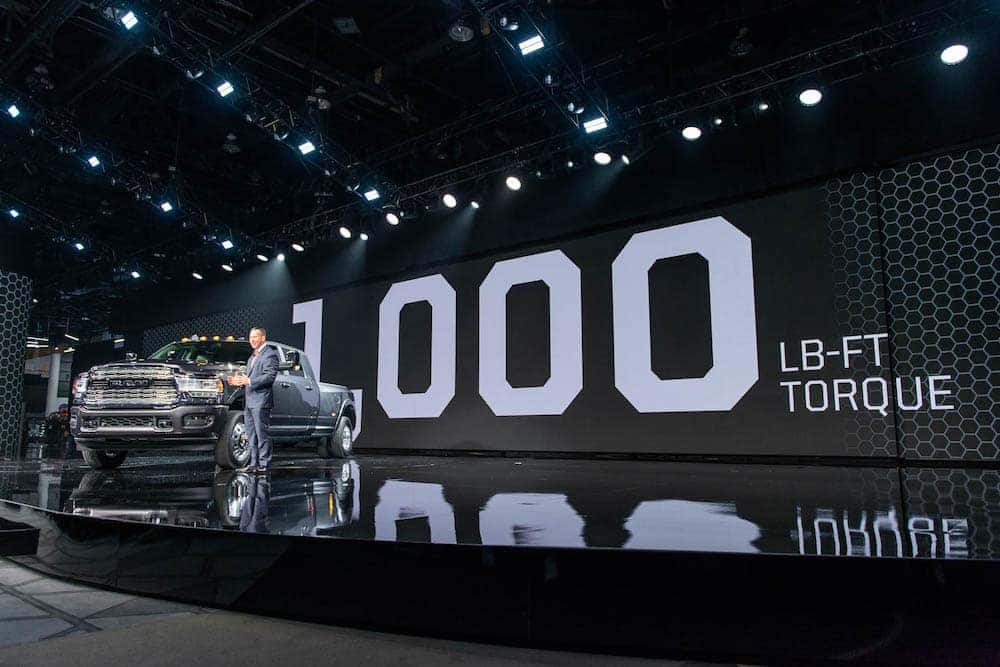 We've already been blown away by the fanfare surrounding the all-new 2019 Ram 1500, but we need to prepare for even more good news with the reveal of the all-new 2019 Ram Heavy Duty. This all-new work-ready pickup not only gets a fresh look, but it is more upscale than ever before and has an insanely powerful diesel option. Keep reading to see what the 2019 Ram Heavy Duty offers our Jacksonville-area buyers.
First, its looks. The all-new 2019 Ram Heavy Duty takes on the basic styling of its little brother, the Ram 1500. But it adds an extra dose of toughness with larger headlights, a bolder grille, and its smoother, all-business hood.
Inside, the Ram Heavy Duty boasts virtually the same look as the Ram 1500, albeit upsized for this larger pickup. Sure, Ram designed this cabin for hard work in its simpler base trims, but it gets quite luxurious in its higher levels. The available premium features in the 2019 Ram Heavy Duty include a 12-inch touchscreen, navigation, active noise cancelation, a 17-speaker audio system with 750 watts, a hand-wrapped leather dash, supple leather seating, and much more.
In many trucks, safety is an afterthought, but not in the 2019 Ram Heavy Duty. It has over 100 safety and security features to keep its occupants safe, including a surround-view camera, adaptive cruise control, forward collision braking, automatic emergency braking, and even AEB with trailer brakes. Should you find yourself in an accident, the Ram Heavy Duty's high-strength steel construction and increased-resistance spot welds will help keep you secure.
While its new looks and safety features are incredible, it's what's under the skin that makes the 2019 Ram Heavy Duty amazing. Under its hood is a standard 6.4-liter HEMI V-8 engine that injects 410 horsepower and 429 pound-feet of torque paired to a slick-shifting eight-speed automatic transmission.
The big dog under the hood is a 6.7-liter turbo-diesel inline-six-cylinder engine that cranks out up to 400 horsepower and a class-leading 1,000 pound-feet of torque. This big diesel is not only insanely powerful, but it also weighs 60 pounds less than its predecessor and pairs with a heavy-duty Aisin six-speed automatic transmission. The standard diesel engine, which produces 370 horsepower and 850 pound-feet of torque, uses a lighter-duty, but still upgraded, six-speed auto.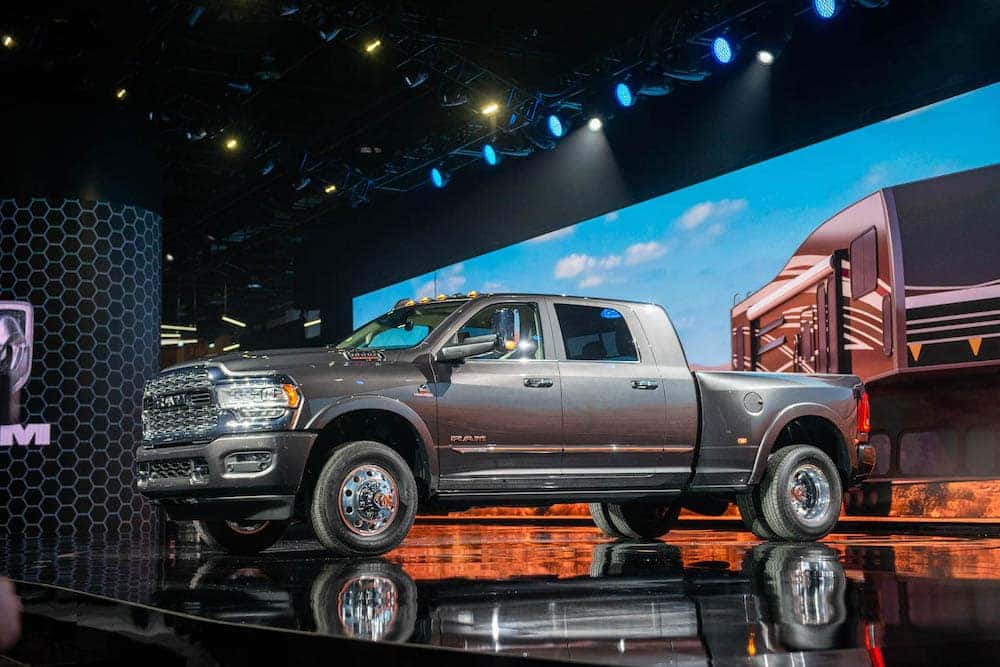 The 2019 Ram Heavy Duty's underpinnings also went through a huge change. The all-new frame is 98.5 percent high-strength stainless steel with six separate cross-members. At the corners is a payload-prepped suspension system with frequency response damping shocks that automatically adjust to driving conditions to improve handling or deliver a soft ride on rough terrain.
This all adds up to a class-leading 35,100-pound towing capacity and 7,680-pound payload capacity in the Ram 3500.
Whether you're hauling a massive camper to Orange Park or heading to the job site in Fleming Island, the 2019 Ram Heavy Duty will get the job done with no fuss. Head down to Garber Automall to test drive the class leader in torque and towing, the 2019 Ram Heavy Duty, now. If you can't make it in today, you can also check out our online inventory to see what 2019 Ram Heavy Duty models we have in stock.