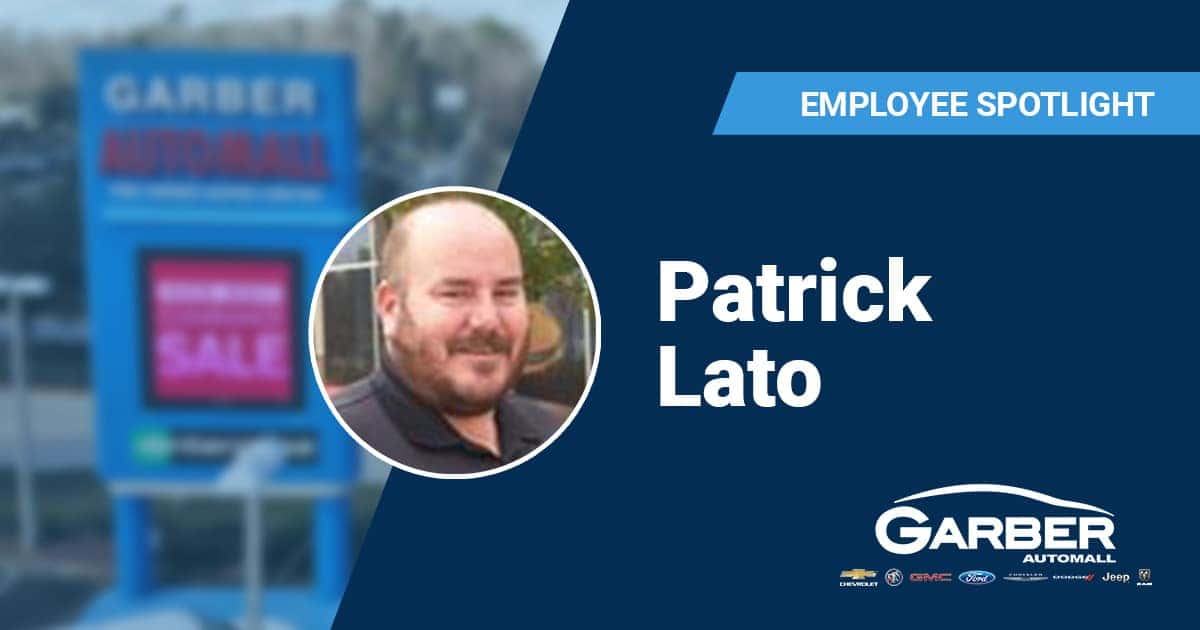 Patrick Lato is the F&I manager for Ford and Chrysler at our Garber Automall dealership in Green Cove Springs, Florida.
But he's more than that. In fact, he has a title that no other person in the entire Garber organization holds.
Patrick is also the one, the only… "Wiggle Man."
Um. What's that?
"Our dealership started this advertising campaign where we filmed commercials," Patrick explained. "Wiggle Man was a play on words, like 'We can wiggle a car deal,' meaning we have wiggle room; we can get the highest trade-in."
Incorporating enthusiastic "wiggle" dance moves and a willing attitude, Patrick's "Wiggle Man" persona was featured in multiple commercials to help promote the dealership.
"When we filmed, it was me in front of this slow-moving camera in this green room and Zach Moore [General Sales Manager] said, 'Dance!' and I was like, 'Wait, what are you even talking about right now?'" Patrick laughed.
The commercials spread like wildfire. Soon, Patrick became a recognizable face in the community. 
"Being 'The Wiggle Man' allowed me to really connect with the community in a whole new way," Patrick said. "I was able to represent the dealership at a variety of events, like community parades, or go to the schools with our mascot Garbear and talk to our community members. It was fun."
Before he joined Garber and got to connect with the community, Patrick was uncertain of his career path. Sometimes, our future is just one step outside of our comfort zone.
From Job to Career
Prior to joining the automotive industry, Patrick dabbled in a variety of things.
"I played in flag football tournaments, I worked at a T-shirt retail company, and I worked at Chili's, slinging chips and salsa," he said. "Zach Moore was a friend of mine outside of work. We were sitting in his driveway and he said, 'Why don't you come sell cars?'"
At first, Patrick wasn't sure about working in car sales.
"Zach has always been a big influence on me, and he's such a trustworthy guy; he's my mentor," Patrick explained. "I didn't want to be waiting tables forever. Zach painted the picture that this could be a long-term deal. Before I got to Garber, I was working jobs. With Garber, I realized I could have a career."
Patrick joined the Garber team in November 2012 working in New Car Sales. Since then, his career has blossomed: opening new doors for Patrick as he added responsibilities.
In 2015, he moved from New Car Sales to Pre-owned Cars. He also helped out in F&I, assisting credit-challenged customers. In October 2020, he took over finance for Ford at Automall, then added Chrysler finance to his plate in May 2021.
He said from Day 1, he has never felt like a number at Garber.
"Even if Mr. Garber comes to town, no matter what position I'm in, he comes over and says hello and asks how my family is doing," Patrick said. "The respect and genuineness is a trickle effect that goes from the top down. There's a lot of great people here."
Here, Patrick feels like he is part of a family.
"The family atmosphere here is what motivates me," he said. "You're not just helping yourself; you're helping the team. What motivates me is seeing us all succeed because of the work we do together. "
Moral Support
That family atmosphere became a beacon of hope and a foundation of reassurance during one of the most difficult times in Patrick's life.
In 2017, Patrick lost his teenage daughter Alexis to neurofibromatosis type 2 (NF2), a rare genetic disorder that causes tumors to grow in the nervous system.
"Garber was part of my life during tragedy," Patrick said. "I was working for the pre-owned department at the time. When my daughter got sicker and the doctors told me that the tumors had grown and we were out of options, she turned to me and said, 'Dad, I'm done. I want to finish this out. YODO: You Only Die Once.' That was her motto. She wanted to live her life out."
Patrick was able to take four months off to spend as much time as he could with his daughter.
"That summer, we got to swim with dolphins even though she couldn't walk," he said. "We got to see Tim Tebow. She got deputized as a cop. I wouldn't have been able to do any of that with my daughter without the financial back-in of Garber and the confidence that I would have a job when I came back."
He said that reassurance and support from Garber was beyond meaningful.
"Garber made sure I could spend four months with Alexis and my wife and not have the burden of, 'Will I have my job when I get back? Am I going to be able to sustain an income while I'm out?' I needed this time with my family, and sure enough, Garber was there for me," he said. "When she passed away, everyone came to the funeral to celebrate her life with me. It was amazing. I don't think you get that kind of support at many other places."
Two months after his daughter passed away, Patrick became the Wiggle Man. It was an unplanned turn of events that also helped him with the grieving process.
"It kept my mind off of the loss we endured," he said. "It broke down walls. Someone would come up and say, 'Oh, you're the guy from TV!' It was easier for me and the customer to talk about that."
It's been four years since Patrick lost his daughter. His Garber family still shows their support for his family and the memory of Alexis.
"Every year in honor of my daughter and to raise awareness for NF2, everyone at Automall wears blue [the awareness color for the condition], and it's great to know that my team still supports me and has my back and wants to honor my daughter," he said. "They aren't done trying to help me raise awareness."
Patrick said he is grateful for his wife and their daughter, Emma.
"I'm so proud of Emma," Patrick said. "She graduated cum laude from high school this year and is attending Santa Fe College."
Because of Garber and the examples set by his colleagues and our leadership team, Patrick said he has become a better human being. He is more intentional about spending time with his wife and Emma. 
"I've grown up thanks to Garber," he said. "I used to be the excuse guy. But now I know it's OK to take one on the chin and say, 'That's my bad.' The old Patrick would not have done that. I've become a better husband and better dad because of Garber, and I am grateful to be a part of this company."
Fast Five

What was your first job? My first-ever job was working for the Winn-Dixie grocery store chain. I still remember the PLU code for bananas: 4011.

First car? '79 Chevy Chevette. My parents bought it for $500. I closed the door one day and the whole window broke.

What are three things you can't live without (aside from food, water, air…)?  Emma [daughter] said I have to mention my Deadpool shirt (it's a shirt that I put on when I come from work; it's that perfect comfy shirt); my family & friends, my dog Ruckus the boxer

What is something people would be surprised to know about you? I'm a big fan of showtunes: Wicked, Rent, Newsies, Jersey Boys, Hamilton, Dear Evan Hansen. I love it all.

What was the best piece of advice you've been given, and who gave it to you? "Let your conscience be your guide" from Zachary Eugene Moore. If you don't get a yes or no to a question, it's always, "Let your conscience be the guide." It'll stew on you. It makes you stop and think, "Am I doing the right thing?" I try to pass that along to the people I work with, as well.