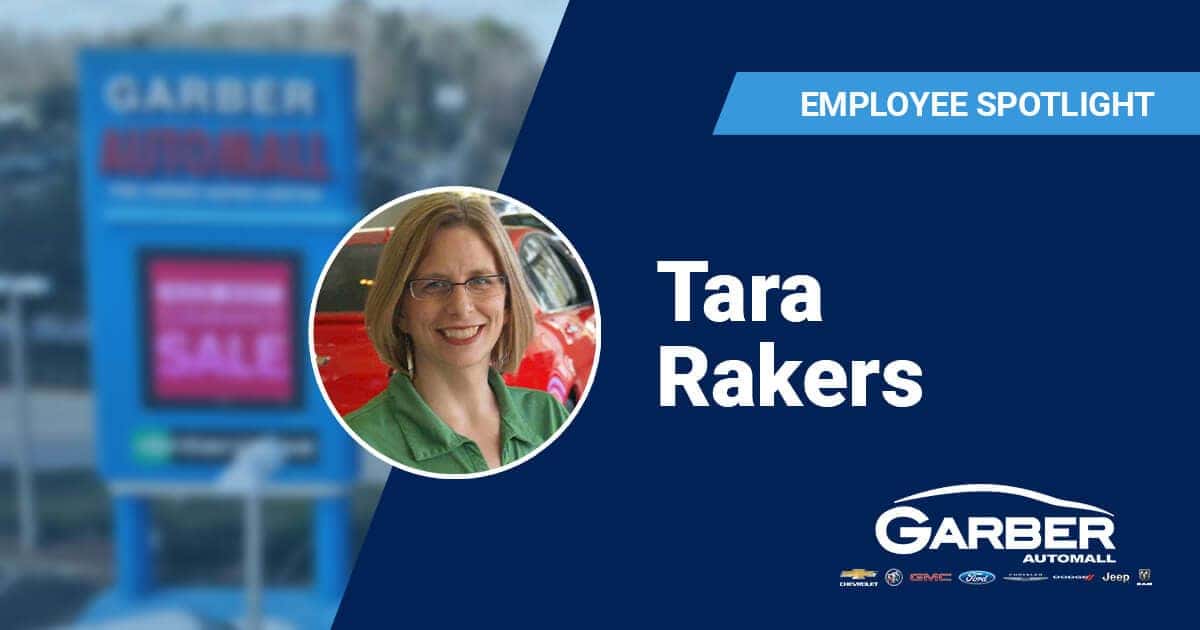 In more ways than one, Tara Rakers grew up with Garber.
Not only in years – Tara has worked for the company for nearly two decades — but she's grown in her skills, too.
"From the get-go, Garber saw the talent in me and kept pushing me," Tara said. "I've grown and grown and grown. I've literally grown up in Garber, and I'm so glad to have grown up here."
Since getting hired in 2003 to work in the office at Garber Chevrolet Midland in Michigan, Tara's career trajectory has taken her across the company…and across state lines.
The Michigan native moved to Florida in 2005 to join Garber Automall's team as a Human Resources Manager. She has moved up at the Green Cove Springs dealership, landing the role as Automall's office manager.
Because of her own hard work and Garber's support, Tara is still growing strong.
Crunching the Numbers
Tara discovered her number-crunching skills in high school.
"At my high school, they allowed students to do internships, so I interned as a bank teller," she explained. "I've always liked accounting. It's easy for me to understand and naturally fits my skills. I took an accounting class in high school too and realized I can calculate numbers."
Tara took those skills from the classroom to the automotive world. She started working in a local dealership's office when she was 18.
As the years went by and Tara ticked off life milestones, Tara decided to stay at home to raise her children. Once they were older, she re-entered the automotive world…only this time, she'd be working for Garber.
"I was hired to work in the office at the Chevy store in Midland in 2003," she said. "It's like a breath of fresh air to work for Garber."
A year later, Tara went to work at Garber Management Group in Saginaw as part of the Payables team. While in that role, Tara did payables for Garber's Florida dealerships.  
Garber Automall was impressed.
"They reached out and asked if I'd want to interview to work in HR with them," she said. "I had followed my husband all over the state of Michigan when he was trying to figure out his career. So when I got the phone call, I told him that I wanted to go to Florida because it was my turn to invest in myself. I was excited about the opportunity. We flew down in 2005 and haven't looked back."
Growing Up Garber
Throughout her time at Garber, Tara has experienced how the company invests in their team members.
She's reaped the benefits of that investment.
"Had I not had someone like Garber who pushed me, and fought for me, I don't think I'd be where I'm at today," she said. "Garber has helped me get where I am today because of their great training plans. You don't just get a job here and it's the same thing. It's always looking to make sure we have good processes and we have the right people and we are sharing insight."
She said the entire team contributes to how work is done.
"It's not 'management's way or the highway,'" she said. "This is our team. Everyone has a say in what we do. Everybody receives training. You don't feel hung out to dry."
The company's thinking is forward-focused, constantly looking ahead to identify how team members' career paths can evolve.
"We talk about who's the next right person, and we are always trying to plan for retirements or someone leaving," Tara explained. "When we interview, we talk about all the opportunities here. Right out of the gate, we tell people, 'If you are coming here, we want you to grow while you are here.'"
Tara said she doesn't just have a job with Garber. She has a less stressful life. 
"I look forward to getting up and coming to work," she said. "I don't have a job. When you love what you do, it's not a chore. It's not, 'Man, I have work tomorrow.' I like coming to work so much that at one point in time in my life, I was driving over two hours one way just to work for Garber."
Garber Culture
As someone who has worked for multiple Garber locations, Tara said the work culture is consistent across the board.
"We have beautiful facilities," she said. "As far as the atmosphere, it flows from one dealership to the next. I don't feel any different walking into Garber Management Group than I do walking into Automall."
A word that often gets used to describe Garber's culture is "family." Tara would agree.
"Working at Garber is like working with your family," she said. "You spend so much time with these people and it's great that the people you spend time with are people you want to work with. It feels like I'm hanging out with my family eight hours a day."
Along with a family, you get a career with Garber, she added.
"People at Garber don't just get a job," she said. "They get the opportunity to build a career. We have so many people here at Automall that have been working here for 10+ years…so many managers that have grown their careers from salespeople to sales managers or F&I. You get an opportunity for growth with Garber."
So what would she say to someone who is considering applying to work at Garber?
"I would say to them, 'You need to apply. Take that leap because you might walk in as a sales person and you might walk out as a sales manager when you retire.' The sky's the limit here."
FAST FIVE

First concert? Candlebox

First job? My first job was at Wendy's. I was a closer. I liked dipping the French fries in the Frosty.

First car? Chrysler LeBaron that I bought off my grandparents

Three words your friends or family would use to describe your personality? Outgoing, team player, therapist

Favorite meal? If I'm going out to a fancy dinner, I love scallops at River & Post, a restaurant in Jacksonville. They are delicious.